Type: Postcard
Artwork: Photograph
Author: Thomas
Date: USPS stamped date: 8/10/92
Wanted to post one of the many postcards I made and sent to Jason, and especially like this one.
If I compare the totality of what I sent to him, and what he sent to me–at quick glance– it looks like I sent far more letters than cards, and he sent a lot of cards and possibly fewer letters.  I didn't seem to keep all the envelopes (Jason kept all of the envelopes) so a quick comparison is hard.
I remember very intensely walks we took up to Arsenal Park, and this bench photo is one taken on one of those walks. The painter, Jason was really captured by the quality of the light at night in the park. The photographer Thomas, was drawn to the shapes and space of the park. I used a Dories plastic camera to try and capture that.
My postcards were mainly made by using the cardboard wrapping that held commercial grade paper towels at work. I was fairly obsessed with re-using things as much as I could.
The Dories camera holds 2 1/4″ film, and produces really fun negatives, as the exposure can be weird, and the plastic lens causes interesting distortions.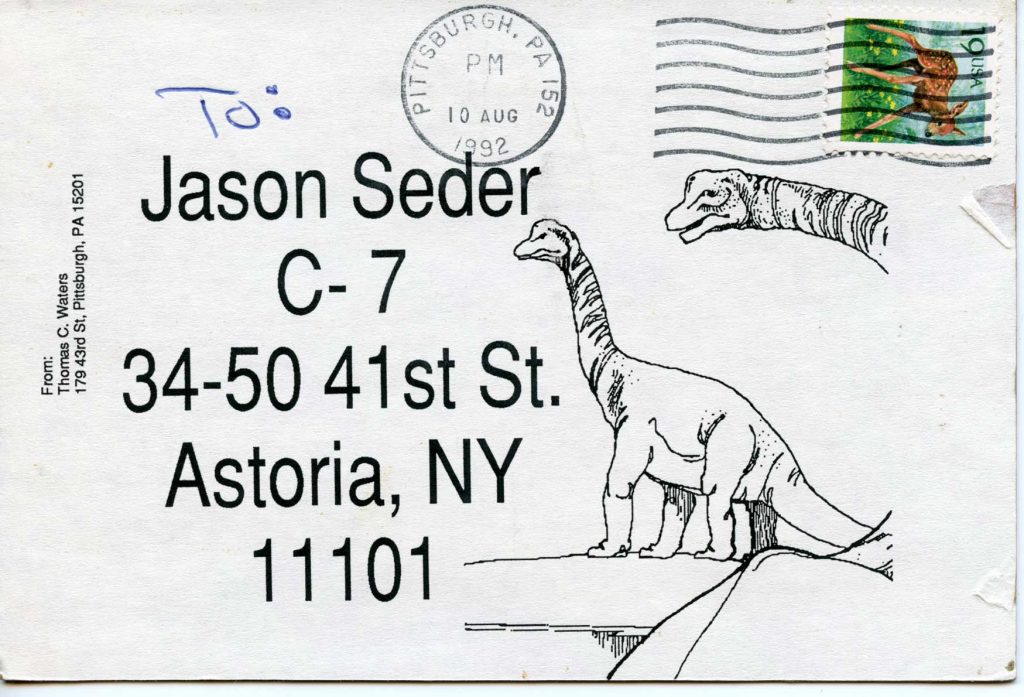 SaveSave